Welcome

Welcome to Studio Chizu wiki, an encyclopedia for all movies and other media published by Studio Chizu.
This wiki is currently under construction and working tirelessly to fill out articles!


Please be aware that our wiki contains heavy spoilers of all published media!
Movies • Characters • Soundtracks • Books
Belle (2021)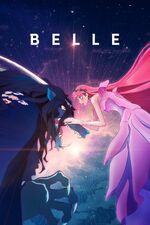 BELLE (竜とそばかすの姫, Ryū to Sobakasu no Hime) tells a fantastical, heartfelt story about 17-year old Suzu, who has lost her passion for singing after losing her mother. Feeling music to be her only purpose left in life, Suzu discovers the massive online space known as "U", a virtual reality counting five billion online members, where she breathes life into her persona, "Belle". Inside "U", Suzu quickly realizes that she is able to sing naturally, and quickly rises to become a world-famous star inside the virtual world, as she continues to showcase her own music.

However, Belle soon meets a mysterious Dragon creature with whom she embarks on an adventurous journey to discover who they truly are.



Mirai (2018)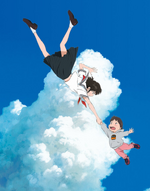 MIRAI (未来のミライ, Mirai no Mirai) is a family story about young Kun, who has to come to terms with the fact that he will no longer be the baby of the family. Faced with jealousy for his sister Mirai, he one day storms of and meets a mysterious stranger who changes his life around. To his surprise, he gets a surprise visit by his new baby sister, only that she is now a teenager visiting from the future.



The Boy and the Beast (2015)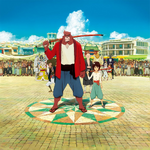 The Boy and the Beast (バケモノの子, Bakemono no Ko) is a film about interracial friendships, family ties and belonging. When Kyuta, a young orphan living on the streets of Shibuya, stumbles into a fantastic world of beasts, he's taken in by Kumatetsu, a gruff, rough-around-the-edges warrior beast who's been searching for the perfect apprentice.



Wolf Children (2012)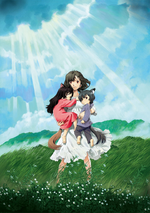 Wolf Children (おおかみこどもの雨と雪, Ōkami Kodomo no Ame to Yuki) is a movie about young Hana, who falls in love with a Wolfman and gives birth to two werewolf children called Ame and Yuki. After losing her husband in an accident, she is forced to raise her children as a single mother, faced by many difficult obstacles. When she takes her children to the countryside, she has to deal with watching her children grow up and choose their own path in life.



Summer Wars (2009)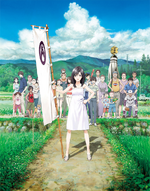 Summer Wars is a movie about a summer vacation spent in a world dependent on the virtual reality world of "OZ". When Kenji Koiso, a 17-year-old math genius and part-time OZ moderator, is invited to spend the summer with his crush Natsuki Shinohara at her family estate in the role of her fiancé, a tame vacation begins to take a turn for the worse. Starting with a coded message, Kenji finds himself roped into an online crime he did not commit which may cost the lives of many who depend on the online world.



The Girl Who Leapt Through Time (2006)
The Girl Who Leapt Through Time (時をかける少女, Toki wo Kakeru Shōjo) is a movie about the high school girl Makoto Konno, who discovers the strange ability to travel through time. As she can not decide what to do about her future just yet, she makes use of her powers carelessly, unaware that her powers are limited and that consequences await her around the corner.